Dibakar Das Research Endowment Award
Dibakar Das Research Endowment Award in Electric Power has been instituted in 2022 in the Division of Electrical, Electronics, and Computer Sciences (EECS) by Deepak Das and his wife, Arundhati Das in the memory of their son Dibakar Das who was a Ph.D. student at IISc, through an endowment to IISc.
Dibakar Das Research Endowment Award is open to all Undergraduate, Integrated PhD and PhD students, as well as Research Project Assistants and Postdoctoral Fellows of the EECS Division at IISc for their excellence in academic research in the area of Electric power (Power System, Power Electronics, High voltage)
This annual award starting from the academic year 2022–2023 consists of a cash prize of Rs 1,00,000/- and a citation to the awardee. The award ceremony will be held on February 6 every year, on the Birthday of Dibakar Das.
About Dibakar Das: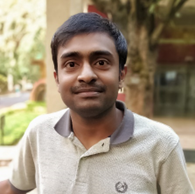 Dibakar Das graduated in Electrical Engineering from the National Institute of Technology, Durgapur, in 2014, with the honor of being awarded the Gold Medal. He joined the Indian Institute of Science, Bangalore, to pursue M.Sc (Engg.) in the field of the power system. Dibakar received POSOCO Power System Award in the master's Category for his excellent research contribution to microgrid operation and control. Later, he continued his Ph.D. in the same institute in power electronics with the Prime Minister Research Fellowship distinction. He worked on modulation and control of a dual-active-bridge-based converter for electric vehicle charging applications. One of his research papers was recognized as the second-best paper in IEEE Transactions on Transportation Electrification for 2019-2020. Dibakar was a bright student with an excellent academic career. However, what set him apart was his passionate participation in various discussions and teaching assistantships to help his friends and colleagues. Apart from the academics, Dibakar was also a deft violinist and a keen western classical music enthusiast.