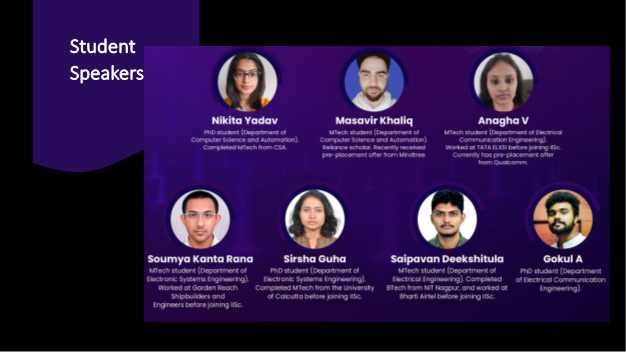 The gateway to obtain admission to the various courses offered by the Indian Institute of Science (IISc) is through the GATE exam.
The Graduate Aptitude Test in Engineering (GATE) exam is conducted jointly by the Indian Institute of Science (IISc) and the seven Indian Institutes of Technology (IIT Bombay, IIT Delhi, IIT Guwahati, IIT Kanpur, IIT Kharagpur, IIT Madras, and IIT Roorkee) on behalf of the National Coordination Board – GATE, Department of Higher Education, Ministry of Education, Government of India. The first GATE exam was organised by IISc in the year 1984. GATE is the qualifying exam for admission into various Master of Technology (MTech), Master of Design (MDes), and Doctor of Philosophy (PhD) programmes at IISc.
The upcoming GATE 2023 exam (in February) is being organised by IIT Kanpur [https://gate.iitk.ac.in], and the last date for exam registration is 30 September 2022 (regular) and 07 October 2022 (extended period with late fee). To clarify students' doubts about this exam, the Division of EECS organised two interactive online sessions of the 'GATE to EECS IISc Meet 2022' on 19 and 26 September 2022, wherein the current students of the Division answered questions posed by the participants.
The EECS students gave an overview of the four departments of the Division, the different thematic research clusters, the MTech degree programmes offered, the GATE requirements for specific programmes, the links to cut-off reports of previous years, and the resources for GATE preparation. They also highlighted the vision of the Division and gave reasons for students to join the Institute.
In case you missed the interactive sessions, the YouTube live stream links are
19th September event (Session 1): https://m.youtube.com/watch?v=LJTYaXyUiso
26th September event (Session 2): https://m.youtube.com/watch?v=dOYDTwAbUOM
The frequently asked questions (compiled by EECS students) are here: https://eecs.iisc.ac.in/gate-to-eecs-iisc-2022-faqs/
Some suggestions given by EECS students in response to questions posed by the participants were:
During preparation for the GATE exam, your mindset should be to attain a good conceptual understanding of the various subjects and not just to get a good score.
Start preparation for the GATE exam from the second year of your Bachelor's degree programme. If you would like to start from the first year itself, you can start off with engineering mathematics, aptitude questions, and the papers related to your first-year courses.
Prepare for the GATE paper that is more relevant to your BTech branch if it is one of the papers indicated for your desired MTech Stream.
If you are appearing for a GATE paper that is not your BTech branch, be sure to focus on the basics, and devote at least six months to understand all the relevant courses. Practice test papers from the previous few years.
If your understanding of the subject is good, but you are not confident of solving numerical problems, practice many test papers.
Cover the breadth of every course that you are studying, so as to not miss out on any easy questions during the GATE exam. Make short notes while preparing for the exam – this will help you in revision. Do multiple revisions. Take mock tests at least a month before the exam.
To increase the speed and accuracy with which you solve problems in the exam: time yourself the first time you are attempting the question during practice, and then try to improve the speed. Attempt simpler questions first and then, go for the comparatively difficult ones.
You don't need to join a course for GATE preparation. Just focus on completing the syllabus and then, revise through mock tests. If you have not finished the syllabus, study using NPTEL lectures.
To get over procrastination, you can adopt two strategies: (1) Remember your goal – for example, why you wanted to write GATE and enter IISc; this will serve as a motivating factor to beat procrastination. (2) Be disciplined. Set daily goals for yourself—that you will finish studying certain chapters and take certain tests in a certain amount of time—and stick to these goals.
A remedy for last-minute exam stress: remember why you started exam preparation in the first place. Your revision and mock test results should give you confidence.
The strategy to follow for GATE preparation in the midst of a hectic study schedule: while studying for a semester course exam, prepare for the corresponding GATE exam also, as the syllabi usually overlap.
Adopt time blocking, where you can divide your day into time blocks, and decide to study during particular periods of time.
To manage GATE preparation along with placement preparation at the same time: prepare the theoretical aspects for GATE and in addition, learn coding if you are appearing for a placement interview. If you are interested in academics, focus on GATE; if you are interested in industry, be thorough with software tools and programming.
It is possible to succeed in the GATE exam while pursuing a job, with proper planning and execution. Your knowledge about basic subjects studied at the BTech level should be good. If not, don't despair, you can attend NPTEL lectures on the same. In addition, consider spending two hours every day on solving previous test papers.
The admission or shortlisting for interviews does not depend on the rank but on the scores; please see the cut-off scores for individual department courses [https://iisc.ac.in/admissions/cut-off-report-and-gate-score-of-previous-years/].
The questions asked during the IISc interview process will be a test of competency in fundamentals and courses taken at the undergraduate level; they will be based on your domain of research and mathematics.
You may be probed on the internships and projects that you have done during your Bachelor's degree at the time of the Master's interview. Be ready to explain them if asked.
Fellowships are available in IISc for GATE-qualified students. MTech and PhD students will get scholarships from the Ministry of Education (MoE). PhD students can start off with an MoE fellowship, and then apply for a Prime Minister's Research Fellowship (PMRF) if they perform well. Scholarships from industry are also available, for example from Cisco [https://cni.iisc.ac.in/mtech-fellowships/], Sony [https://eecs.iisc.ac.in/sony-fellows/], and Citrix [https://eecs.iisc.ac.in/citrix-fellows/].
Once you join IISc, the programme to which you are admitted will have core and soft core requirements. You will speak with a faculty advisor and will plan your programme of study.
Once you get admission into the Institute, you can register for any course from any department as elective, depending on your research and personal interests.
It is not necessary to have prior research experience to join for a Master's or PhD at IISc. In your first year of course work, you will have enough training to be a researcher – through assignments, projects, and lab courses.
For a postdoctoral position, research done during your PhD and peer-reviewed journal publications matter. Here, a GATE score is not mandatory; however, it will add extra weightage to your profile.
It is possible to do a PhD while working. IISc offers programmes for sponsored candidates [please see https://iisc.ac.in/admissions/m-tech-for-sponsored-candidates/ and https://iisc.ac.in/admissions/external-registration-programme-ph-d/].
You can join IISc as interns or project staff, for which a GATE score is not mandatory. Calls for internships and project staff are listed on individual lab webpages on the EECS Division website. You can also directly contact the professor whose area of research matches your field of interest.
Regarding stress levels during study at IISc, the learning curve in the initial few months will be a steep one. You may have to learn new skills within a few weeks. However, the peer group here is one of the best in India, and you can take their help.
If you are not fluent in conversing in the English language, don't worry. This need not deter you from applying to IISc. Yes, you will need to communicate in English in situations such as asking questions in class. You can pick up spoken English as you keep talking with your friends on campus.
Resources for GATE preparation
Syllabus for GATE exam: https://gate.iitk.ac.in/gate_syllabus.html
NPTEL online courses: https://onlinecourses.nptel.ac.in
GATE portal, NPTEL: https://gate.nptel.ac.in
GATE previous years question papers:
https://gate.iitkgp.ac.in/old_question_papers.html